WHAT IS PAINT BY NUMBERS?
WHY YOU SHOULD ORDER?
PERFECT FOR BEGINNERS – Match the numbers on the canvas with the corresponding labeled numbers on the paint. Paint your own wall art, even if you have zero artistic ability.
RELAXING INDOOR ACTIVITY – Take your mind off stress and anxieties. Research shows that creative activities like coloring and painting help reduce stress.
DIY HOME DECORATION – Create your own wall art, add a frame to your painting so you can hang it on your wall.
SHARE THE FUN – Paint by Numbers for adults can be a fun social activity. Try working on a single kit in turns with a friend.
THE PERFECT GIFT – Whether it's a birthday or Mother's Day, we provide thoughtful gifts for those who like crafts. The oil painting you painted by yourself must be a special gift containing love.

HOW TO PAINT BY NUMBERS?
      With Paint By Numbers, you can re-create every detail of the paint on your own. You become an artist.
      Here is how:
            Step 1. Paint in the numbered area with the corresponding paint.
            Step 2. Paint one color at aa time from the largest areas to the smallest ones
            Step 3. Do the super fine lines and details patiently
            Step 4.Get it dry, then you can admire, ha, ng, and show off your artwork!
WHAT'S IN THE PACKAGE?
      1 x  Numbered acrylic paint set (24+ different colors)
      1 x  Numbered high-quality linen canvas
      1 x  Set of 3 paint brushes
        Canvas:  High-quality canvas(linen), have texture tactility, easy to color.
        Brush:  Easy to clean, good water absorption n.Three size painting brushes, you could use the large brush to paint for the large part and the small brush for the small part.
        Paint:  Eco-friendly acrylic paints, bright colors, and could be mixed, create your own works according to your favor and idea. Paint by color numbers, finish one by one, or firstly you can paint the dark color, then paint the light color. IT WILL BE EASY!
   Tips:
      1. Use the paint directly and do not add any water.
      2. If you fill in the wrong color, you can wait for the paint to get dry and then cover the wrong part with the correct color on the surface.
      3. Please cover the lid of the paint well when you do not use it, in case the paint gets dry.
WHAT SHOULD YOU PAY ATTENTION TO?
      * This DIY oil painting kit suit for children where over 6 years old and adults.
      * Paint can not eat, please put it far away from children, make sure they can't get it.
      * Have any questions about the product, please contact us. Thank you.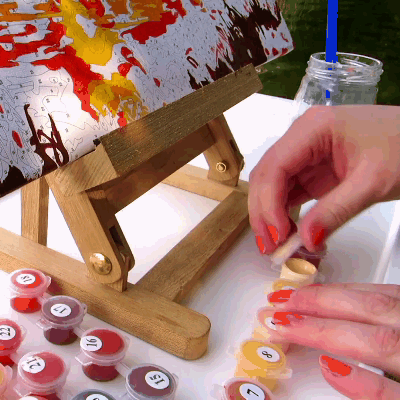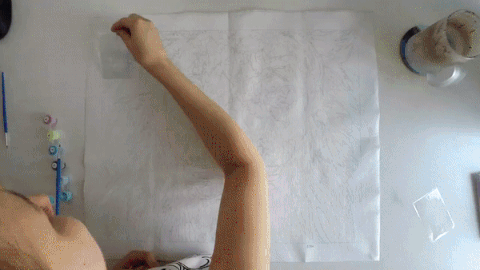 THE FINISHED PRODUCT TO SHOW
       Comments from people around the world who love digital oil painting:"Picture of canvas 80% complete. The actual paint dries a bit darker than the picture but still looks great. This is probably a 30+ hour project but, even with rudimentary skills, comes out nice enough to stretch and frame for your wall or give as a gift. Also easy to put away/store as you work on it intermittently. Would definitely recommend trying!"
Support Secure Payment Services (PayPal)
Satisfaction Guaranteed – 30 Day Money Back Guarantee
       Want you to be thrilled with your new purchase. However, if you're not 100% satisfied with your purchase, you can return the item and get a full refund.
       You can return items for up to 30 days from the date you receive them.
       Any item you return must be in the same condition you received it and in the original packaging. Please keep the receipt.
OUR PROMISE
       Your happiness is our top priority. If you're not 100% happy with your order for any reason let us know and we'll make it right.™️