Say goodbye to irritation. nicks. and bumps.
In less then two minutes. get a no stubble shave. without the irritation.
Your morning routine just got 5x faster.
Stop wasting time with your current daily shaving habits. Upgrade your life and get a comfortable. sensitive. and ultra close shave in under two minutes. Meet the all-new FlexSeries.
Get the closest shave of your life. without requiring multiple passes over the skin!
Our five-blade signature design cuts hair precisely at the surface of your skin without leaving bumps or nicks. Other blades and razors tug the hair. cutting below the surface which causes irritation and ingrown hairs.
Every hair & skintype gets treated the same.
Crafted to overcome shavingthe most demanding and irritation-prone hair. such as coarse. curly. and thick hair. Our blade precisely cuts right through it all. leaving no trace. and no harmful after effects.
The ultimate all in one package.
Take control of your confidence.
Symptoms of shaving irritation are painful and can leave you feeling uncomfortable while draining your self-confidence. We're devoted to create a spectacular shave that will instantly leave you looking and feeling better.
Trim at any desired length.
Use any of the included safety guards to trim your hair to the specific length you desire. flawlessly every single time.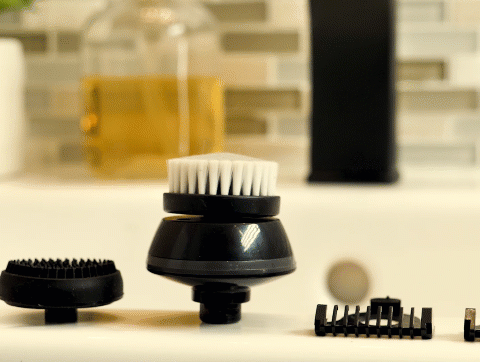 Manscape friendly and risk-free.
No more nicks. cuts. or pulling. Freedom Grooming makes manscaping quick. easy. and harmless. Take care of any hair type. coarse or soft. curly or straight. Simply trim or shave to the skin while minimizing any risk.
Groom yourself. anywhere at anytime.
Shave wherever and however you'd like. Enjoy a convenient dry shave or a comfortable wet shave with gel or foam. or even in the shower. The long-lasting and quick charging lithium ion battery is always protected by the waterproof design.
Clinically proven to help protect sensitive skin and stop irritation.